online: http://www.verlagoesterreich.at
Verlag Österreich is one of the leading publishers of specialised legal information in Austria and publisher of the official collections, findings and decisions of all three Austrian supreme courts. Since 2008, it has also been part of the publishing group Wissenschaftliche Verlagsgesellschaft, one of the leading providers of academic literature in the German-speaking world, and is based in Vienna's city centre. The publishing programme includes more than 2000 deliverable book titles, more than 20 specialist journals as well as electronic and online offerings.
The publishing house offers content in the following subject areas:
Public law
Criminal law
Civil law
Corporate law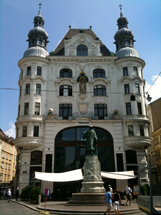 parsQube was assigned by Verlag Österreich to design the architecture of an application, to implement it and to provide advice on the consistent processing of XML data
from the point of import,
the validation and verification of the data to
the export of the data for the online area
After 6 months of development, the joint project was successfully completed and accepted.
In this project, the experience of parsQube in the areas of
requirements analysis
project management
application development (Java, Schematron and XQuery development based on existdb 2.0)
XML know-how and
know-how in publishing
have flowed together and ensured its success.